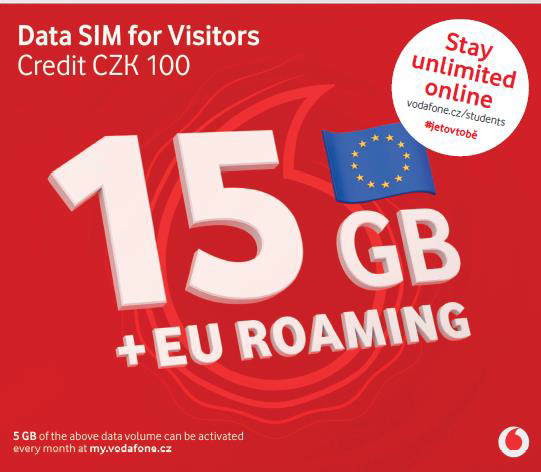 Enjoy your prepaid value bundle which includes:
10 + 5 GB of data (10 GB automatically and 5 GB above data volume can be activated every month at my.vodafone.cz or website)
unlimited SMS within the Vodafone network for the first month and an extra CZK 100 (for extra calls and SMS).  
Everything for the first month for free and then for 399 CZK/ month. This offer is the best offer for students at the market right now. So keep it simple, stay online and reach everyone you need.
How does it work?
The bundle with 15 GB of data + unlimited SMS within the Vodafone network in the first month is included. Other services (calls to all networks and SMS to other networks) are charged according to the pricelist.
In the following months you can choose the same prepaid value bundle as in the first month for 399 CZK/month or different bundles proposed by Vodafone. Do not forget that you always have to top-up your card with credit to get bundle. 
How to top-up your card?
Online via a payment card issued in the CZ at My Vodafone app or in all Vodafone stores
Via internet banking
In selected ATMs or terminals of GECO, Czech Post and Sazka or at some petrol stations
The bundle will be renewed every month. If you do not have enough credit at the time of renewal, it will be cancelled. You can manage your Prepaid bundles and other services at My Vodafone app. 
Contact your local ESN section and get your SIM card!
For the full information, check the attachment.